General ordering terms and conditions (applies to both UK and international customers)
1.If you make 2 or more separate orders we can no longer combine them or refund some of the postage charge, they will be sent individually.

2.All Cazjar Boutique items are bespoke and made to order, you may cancel your order even if production has started but has not yet been posted. You will receive a full refund. If your order has been posted and you change your mind you are legally entitled to return the order within 14 days of receipt. You will be responsible for any postage charges incurred for the return. The original postage charge for the order will NOT be refunded.
3.Your order will only be posted to the address supplied to us via PAYPAL. If your address is incorrect and your order is returned to us, you will be responsible for the cost of resending.

4.If an item is missing from your parcel please inform us within 48 hours, so we can look into for you. We keep strict stock take notes, so we should be able to help rectify any problems. If your whole parcel is missing please contact us , Royal Mail do not consider a parcel lost until 15 working days have passed. But we hope you should have recieved your parcel well before then. If there are any problems please just contact us so we can help you.
Terms and Conditions for UK Orders:
We have a one off postage charge of £2.65 per order. Payments are to be made with PAYPAL only. Orders with a high value will be sent by Royal Mail Recorded Delivery, a signature will be required upon reciept of your parcel. If you are not home when Royal Mail call they leave a card for you to collect your item from the local sorting office. They hold your item for approximately 2 weeks. If your item is returned to us due to failure to collect, you will incur the exact postage charge to re-send your item.
Terms and Conditions for International orders (ie: anywhere outside of the United Kingdom)
Please see the table below for the international postage charges, this covers a tracked and insured service.. Payments are to be made with PAYPAL only. International customers may be liable for customs charges according to their own countries policy. These will be payable by the customer and NOT Diva Crafts. We will not give false values of your order on a customs form, please do not ask.
---
Postage charges for The Cazjar Boutique.
Orders are sent Tracked & Insured service by Royal Mail.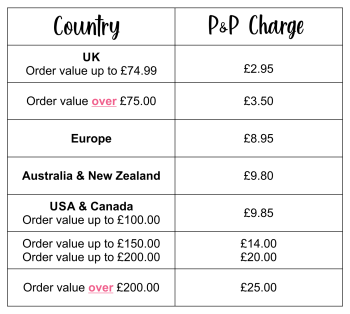 If you live outside of these areas and would like to purchase a Cazjar item please contact us so we can give you a postage quote.
The Cazjar Boutique Terms and Conditions
All items are bespoke and made to order, large orders will take longer to fulfill than smaller orders. Orders of 8 or more items will be completed within 28 days.
We reserve the right to substitute fabrics which may no longer be available to us. Substitutions will always be similar to the original fabrics used., if there is a great difference from the original we will contact you about this.
Dolls, shoes and stands are not included with any of our fashions, unless otherwise stated.
For Jem dolls, please be aware that we sell fashions to fit both the Hasbro size and Integrity size dolls. They have very different body shapes from each other and their fashions are not interchangable. Please make sure when you order that you are ordering the correct size for your dolls.
Disclaimer: dark colours/rubber legs/arms/older dolls - all of my fabrics are pre-washed, however if the outfit is left on the doll for a long period of time the dark colours can sometimes react with the rubber limbs of older dolls and stain them. If displaying for a long time I would advise wrapping the limb in film wrap/cling film to prevent this from happening. I will not be held responsible.
---
Returns information for Diva Crafts & The Cazjar Boutique.
We hope you'll always be happy with your purchase but should you wish to return your item please send written notification within 7 working days we will give you a returns number, NO RETURN will be accepted without one, and please return the item in a re-saleable condition within 30 calendar days. (We recommend that you use Recorded or Special Delivery postage for this.) Refunds cannot be given for the cost of posting returns. Full refunds of both product, delivery and return postage will be given where an item is deemed faulty upon receipt, in line with the Office of Fair Trading's Distance Selling Regulations (DSR) (2000) We also reserve the right not to refund any items that have been custom made, or cut-to-order, in line with the DSR, unless faulty, this includes fabrics, bias bias, trimming etc that have all be cut to your requirements. Other items such as bows, roses, hemline products etc that do not require any cutting are covered by the DSR and you have the right to return them.
---
What Are Cookies?
Cookies are small files which are stored on a user's computer. They are designed to hold a modest amount of data specific to a particular client and website, and can be accessed either by the web server or the client computer. This allows the server to deliver a page tailored to a particular user, or the page itself can contain some script which is aware of the data in the cookie and so is able to carry information from one visit to the website (or related site) to the next.
What is our cookie policy
To be able to purchase online at Diva Crafts / The Cazjar Boutique and to make full use of personalised features, your computer or mobile phone will need to accept cookies. We use the information from cookies to improve your customer experience and offer you products we think you will like. Our cookies do not store sensitive information such as your name/address or payment details but they allow us to access this information once you have signed in to your account. If you'd prefer to modify or delete cookies from Diva Crafts you can use your browser to do this. Simply check the 'Help' or 'Tools' menu of your web browser to learn how to change your cookie preferences. However, please be aware that this action may prevent you from taking full advantage of a website. We use google analytics to give us website statistics of users in/users out.
Privacy
Diva Crafts / The Cazjar Boutique will not sell/rent/lend/giveaway any information at any time for any reason :)
---
General website use & Terms and conditions.
Welcome to the Diva Crafts website. If you continue to browse and use this website you are agreeing to comply with and be bound by the following terms and conditions of use, which together with our privacy policy govern Diva Crafts' relationship with you in relation to this website.
The term 'Diva Crafts' or 'The Cazjar Boutique' or 'us' or 'we' refers to the owner of the website. The term 'you' refers to the user or viewer of our website.
The use of this website is subject to the following terms of use:
The content of the pages of this website is for your general information and use only. It is subject to change without notice.
Neither we nor any third parties provide any warranty or guarantee as to the accuracy, timeliness, performance, completeness or suitability of the information and materials found or offered on this website for any particular purpose. You acknowledge that such information and materials may contain inaccuracies or errors and we expressly exclude liability for any such inaccuracies or errors to the fullest extent permitted by law.
Your use of any information or materials on this website is entirely at your own risk, for which we shall not be liable. It shall be your own responsibility to ensure that any products, services or information available through this website meet your specific requirements.
This website contains material which is owned by or licensed to us. This material includes, but is not limited to, the design, layout, look, appearance and graphics. Reproduction is prohibited other than in accordance with the copyright notice, which forms part of these terms and conditions.
All trademarks reproduced in this website, which are not the property of, or licensed to the operator, are acknowledged on the website.
Unauthorised use of this website may give rise to a claim for damages and/or be a criminal offence.
From time to time this website may also include links to other websites. These links are provided for your convenience to provide further information. They do not signify that we endorse the website(s). We have no responsibility for the content of the linked website(s).
You may not create a link to this website from another website or document without Diva Crafts' prior written consent.
Your use of this website and any dispute arising out of such use of the website is subject to the laws of England, Scotland and Wales.
---
Who is Diva Crafts/The Cazjar Boutique? - To find out who we are please visit our about us page!
Do you have a shop, can I come and visit you? - We no longer have a bricks and mortar store, we sell via the internet only.

Do you accept custom orders at The Cazjar Boutique? - Not at the moment.
I can't seem to find what I am looking for, what should I do? - Please use the search feature, or contact us so we can help.
Do you have stock that's not online? - No, everything we have for sale is listed on the website.

Do you have a mailing list? - Yes we do, due to the new GDPR law you need to sign yourself up, please use the links below to take you to Mail Chimp (who we use to send emails)!

To join the mailing list please: click here